IB Diploma Programme May 2023 Results

Now that all marking has been completed, we are pleased to announce that the May 2023 graduates of the IB Baccalaureate Diploma Programme at the International School (ISI) at the Akademisches Gymnasium Innsbruck have achieved outstanding results.
Often the results do not reflect the learning that has taken place, but it is worth mentioning that in all categories, ISI students were well above the world averages. The dedication to learning shown by the graduates was exemplary with the majority completing both the Austrian Matura and the IB Diploma with outstanding success. Seven students scored 40 points or more from a possible 45 points (top 8.5% globally) with our best student achieving a score of 43 from 45 points putting them in the top 2.5% globally.
The bilingual programme that looks back on more than 30 years of implementation at AGI, has also reaped rewards with 64% (in comparison, 27% globally) of students receiving not only an IB Diploma and an Austrian Matura but also the IB Bilingual Diploma for students who have undertaken their studies in a non-native language (English).
Our overall average of 33 points, as a cohort, is well beyond the global average of 30.24 points taken from more than 170,000 students across 149 countries.
We wish to congratulate all students on their efforts. We also wish to thank the Bildungsdirektion Tirol, the Wirtschaftskammer Tirol, the Industriellenvereinigung, the ISI Parent Support Association, teachers, and staff at AGI, for their continuing support in our endeavours to provide a truly global educational programme.
Headmistress Rosmarie Knoflach, MA, is Board Member of ACES
The Association of Central European Schools is governed by a seven-member Board. Each Board Member represents an ACES Member school, and is elected for a three-year term. The Board Members strive to facilitate the strategic and operational development of the association.
Mission
The Association of Central European Schools represents and promotes the educational and public interests of IB member schools and their communities, working together to support learning. As a community they foster sharing among member schools and support professional development.
The ACES Story
The Association of Central European IB Schools (ACES) was officially established in the Czech Commercial Registry on March 30th, 2015.
Led by its first Board Chair, Peter Murphy of the Vienna International School, ACES has grown from a handful of schools in Austria, the Czech Republic, Slovakia and Hungary to a 37-member association spanining 10 countries.
Together, the members strive to improve the delivery of International Baccalaureate programmes and ideals through a supportive network of professional development, as well as lobbying state governments to acknowledge the value of IB education.
International School Innsbruck
a top ranked world IB school
Following a challenging school year, we are pleased to announce that the International School Innsbruck at the Akademisches Gymnasium Innsbruck has been awarded for its outstanding International Baccalaureate Diploma Programme results in the school year 2019/20.
We have been ranked based on our year level average results of 36.7 from 45 points:
• Ranked #1 IB World School in Austria
o From 17 schools nationwide
• Ranked #8 IB World School in Europe
o From 601 schools EU-wide
• Ranked #68 IB World School in the World
o From 3,020 schools worldwide
As a school, we would like to recognize and congratulate all students, their teachers and their parents. We would also like to thank the ISI parent support association, the Bildungsdirektion Tirol and the Wirtschaftskammer Tirol for their support in receiving this well-deserved award.
Celebrating success in the IB: second international class graduation at the AGI
On Monday 6. July 2020, our IB graduates received their IB Diploma Programme results. We wish to congratulate the 8B Class of 2020 on their outstanding IB and Matura achievements.
More than 165,000 students from 144 countries worldwide, were enrolled in the programme. Our students as members of this global community, achieved a remarkable average score of 36.7 points; more than six points above the world average. 5 students achieved more than 40 points from a maximum of 45 points, with more than half our students achieving 35 points or more.
We understand the that their accomplishments are much more than the grades they bring home, but rather the enriched IB learning programme that together with an Austrian curriculum go to ensuring them a good start in what hopes to be a bright future for all.
We wish them a safe and relaxing Summer and all the best for the next phases in their lives and thank all those who have contributed to it in recent years.
Collecting our data for the IB Geography Internal Assessment
by Amelie Erricher, 7B
For the IB it is mandatory that the students write Internal Assessments (=IAs) in their respective IB subjects. For IB Geography, our topic for the IA was urban climate. To be exact, we had to find out how different surface properties modify urban heating in Innsbruck. To answer this question we had to gather our own data. Fortunately, we had professional support from a scientist from the University of Innsbruck, who provided us special equipment.
On Friday, 22nd of May, the IB geography students of the classes 7A and 7B met up at the AGI. We got our equipment and set it up. Then, we received some more important information before the first group headed out to start their first measurements. The route included the following stops: School's yard, school's garden, Landhausplatz, Annasäule, Marktplatz, Goldenes Dachl and Hofgarten. The classes were put into different groups. There were groups who took the measurements, groups who controlled the data and groups who documented the happenings by taking photos.
We had access to multiple measurement devices. Most of them work as follows: We had to choose a certain area where we wanted to take our measurements. By putting the sensors of the different devices above the selected areas, the devices measured a handful of different things. These include the different types of radiation, air temperature and humidity, wind direction and strength etc.
After a long day of data collecting, data controlling and documenting we were finished with the first part for our IAs. Everyone then has access to the data. Even though we had the same topic, everyone still needs to write their IA individually. It was a very tiring but also fun and instructive day.
The final year candidates of the International School Innsbruck at AGI have passed both the Austrian school leaving examination and the International Baccalaureate Diploma with outstanding results. All students of the 8B, who were admitted to the exams, passed the big hurdle of this double certification with flying colours.
On Friday, July 5, 2019, the first IB Diploma students of AGI were honoured at a ceremony in the Landhaus Tirol under the patronage of the Governor of Tyrol, Günther Platter, and in the presence of prominent representatives of the Province of Tyrol, Land Tirol (LR Univ.-Prof. Dr. B. Tilg), the Ministry of Education (MR Mag. I. Tanzmeister), the Tirol Directorate of Education (HR Dr. R. Raffler – Head of the Presidential Department, HR Mag. A. Gschließer – Head of Department of the Western Region), the Tirol Chamber of Commerce (President C. Walser, Mag. O. Wolkenstein), the Association of Tyrolean Industries (GF Dr. E. Stark) and a number of other guests of honour, received their school leaving certificates and the results of the International Baccalaureate (IB) diploma examinations.
The AGI students have achieved excellent results in their first international degree in one of the first projects for a school in the west of Austria and Tyrol: Worldwide, almost 3000 schools with approx. 180,000 students took part in the IB diploma examinations in 2019. With a point average of 35, our first IB diploma students are clearly above the worldwide average of 29.5 points. An AGI graduate even achieved with 42 points, joining the top 3% of students in the world.
We congratulate our first Matura students with IB diploma on their great success and thank all those who have contributed to it in recent years!
The press release of the Department of Public Relations of the Province of Tyrol is available under the following link:
https://www.tirol.gv.at/presse/meldungen/meldung/artikel/erster-internationaler-bildungsabschluss-an-tiroler-schule/
Die Aussendung der Abteilung Öffentlichkeitsarbeit des Blildungsdirektion ist unter dem folgenden Link abrufbar:
The press release of the Department of Public Relations of the Bildungsdirektion Tirol is available under the following link:
https://www.lsr-t.gv.at/de/content/erstmals-internationaler-abschluss-der-isi-am-agi
Tiroler Tageszeitung
https://www.tt.com/panorama/gesellschaft/15854894/akademisches-gymnasium-innsbruck-stolz-auf-internationalen-abschluss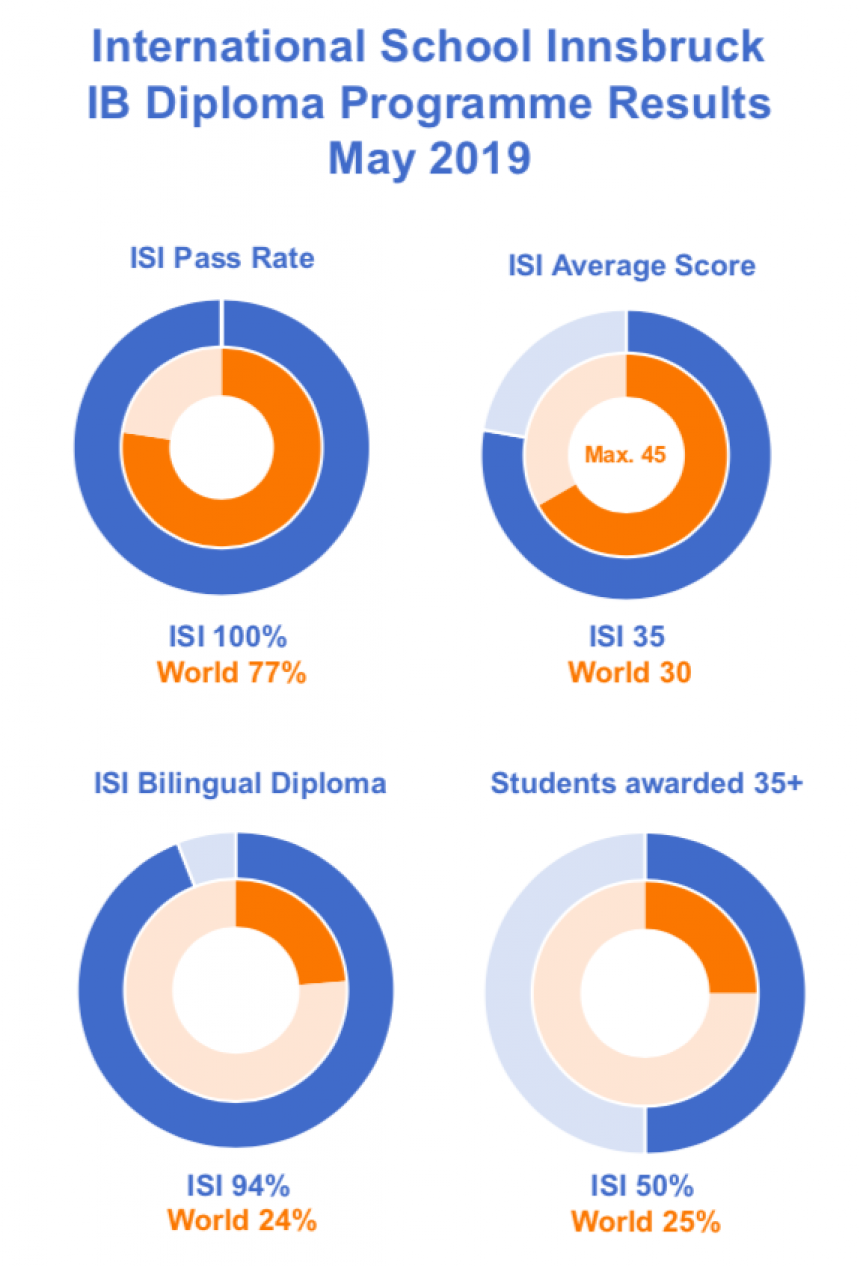 Photo 1 & 2: Land Tirol/Huldschiner
Youth Parliament Report 2017
ORF Austria