USA Trip 7A 2023
This fall we, the 7A, got to go on a 10 day trip to USA, California. Everyone had such an amazing time.
We stayed in a little town, near Sacramento, called Davis with our host families. On the first three days we went to Davis Senior Highschool and even went to a football game there. Even though school in the US is very different everyone enjoyed getting to know a different school system. On the weekend we hung out with our new friends, went shopping, went on trips with our host families or went on discovery tours around town. On Monday we got to go on a little tour around the campus at the University of Davis. The following day we went to Lake Tahoe, a beautiful mountain lake, that reminded us a lot of the mountains in Austria. On the last day we went to San Francisco and visited the prison Alcatraz, which was very impressing. After that we drove over the Golden Gate Bridge and took a lot of pictures.
All in all we made so many great memories, met so many new people and made new friends. We had a great time and would definitely go there again.
Brighton – Eastbourne trip 4A
In the morning we took the train to Brighton, it was a one hour ride. Some of us were singing Christmas songs while the others were really annoyed.
In Brighton our tour guide Alfie showed us around the lanes full of small little shops until we reached the pier where we had a little free time. There was an arcade, many little shops with souvenirs and an amusement park. We went on some of the rides and we absolutely loved it! Sadly we only had an hour of free time so we couldn't try any other rides.
After that we went to the Brighton Aquarium where we could see loads of fish and sea animals. We walked through a tunnel below the shark tank, which was really cool. Later we ate our lunch and got two hours of time to go shopping. Many of us visited a toy store where you could buy funny ducks and other souvenirs. Sadly these two hours were over soon and we had to take the train home to Eastbourne. At the bus stop we realised that our bus would be thirty minutes late so all of us bus grabbed some drinks at Starbucks. What a great day.
Lisa Dahnelt
Trip to Eastbourne (4D)
We, the 4D, spent one week in the wonderful town of Eastbourne where we had such a great time, that we will definitely remember it fondly. We stayed there in host families who took nice care of us. This way we got the chance to learn more about their culture. Of course, we enjoyed the nice weather and went for a hike to one of the highest and prettiest places namely Beachy Head. From the top, we experienced an absolute stunning view of this seaside resort. In the following three days, our class had the opportunity to join some lessons at Willingdon Community School. This way we got to experience how students around the world learn. On Saturday, we visited London on an excursion where we explored the most famous sights. One of the many highlights of that day was when we visited the popular London Eye, where we were able to spot all those places we had just seen but from a completely different angle. It wouldn't have been a London trip if we hadn't visited the well known Big Ben and the famous Buckingham Palace. The next day we arrived at London early, our first stop was Covent Garden. Afterwards, we went to the one and only Madame Tussaud's where everyone took a bunch of pictures. Later on, the whole class went for a shopping spree in Oxford Street and arrived back in Eastbourne with plenty of shopping bags. On our final day travelling on the south coast of East Sussex, we took part in a drama workshop where we had a lot of fun. Overall, we had a fantastic week in the United Kingdom that literally every single one of us enjoyed and will remember as one of the most memorizing trips we were able to experience as a class!
Lina Proxauf, Lea Thalhammer und Valentina Knoflach
Video: Paul Zoller
England (Eastbourne – Brighton – London; 4A)
Die Klasse 4A verbrachte gemeinsam mit ihrem Englischlehrer Mag. Steidl und ihrer Klassenvorständin Mag. Gruber 10 Tage in England. Ausgewählte Beiträge der Schüler:innen finden sich nachfolgend:
Eastbourne and host families
We spent the majority of our time in Eastbourne, a nice little city. We stayed there with host families, who took great care of us. The most beautiful part of the city must be the pier. There we spent some time explore the food stands and also completed a treasure hunt. The bus rides also were very beautiful, especially in the evening. Luckily we even got some time to explore Eastbourne and its popular mall, The Beacon. Overall it was a nice little town, where we got to experience the English culture.
(Dexter)
I must say that my friend and I were very lucky when it came to getting a host family. Our host was incredibly nice and very helpful. The beds were comfy, it was very clean, and the food our host prepared was simply delicious. The first few nights were very cold, probably because we weren't used to the cold. The weather was also colder than expected so the nice warm shower we had in the evening was a blessing. Our host was also very talkative and was nice enough to show us some pretty impressive magic tricks. We weren't the only students that he was hosting, there were 4 more. This makes sense since he has over 15 years of hosting experience. In conclusion, I highly recommend him as a host.
(Jasper)
Seven Sisters / Beachy Head Walk
First I have got to mention how tired I was afterwards, honestly, I felt like I did more sport than I ever did and ever plan to in my life. If we ignore that fact I think it was actually really fun. It was really foggy at some parts but it actually looked really pretty. It looked as though it was an aesthetic picture of Pinterest. Once we reached the area to sit at, because it was really windy everyone lifted their jackets above their head and let the wind blow against it. It was fun to watch. Some people also slid down the hills with people dragging them, which ended up with people covering their pants with mud. Even though I didn't participate, my pants were also really messy at the bottom. After quite a while we got to see the ocean and cliffs, which was really amazing, I mean, how often can you tell someone you walked on top of a cliff? We took around a one hour break, which only kind of helped with the pain in our legs. After what felt like a second we went back. We saw cows, sheep and even horses! I love animals and it was beautiful to see a horse up-close. Honestly, I think everything was amazing, I loved it.
(Svana)
St. Catherine's College Eastbourne
The school didn't look how I had imagined it. Way more like one you would see in an American Highschool movie. The first time my friend Vivian and I saw my classmates from Innsbruck we felt out of place as we had dressed way too formal. Vivian had even bought a shoe cleaning set… The school felt lonely as there had been a teacher strike and the only students there were preparing for exams. Lunch was way better than expected - we had pasta. Felt lonely but wasn't bad !
(Benni)
Once at St. Catherines College, the school we visited, everyone got a buddy they were going to go through a whole school day with. They had the same classes, rooms, teachers and timetable in general. When walking through the school, you noticed just how big the school was. In one class, after Chemistry, I had to cross over a road, where cars drove, just to get back to the main part of the school. The girls there were a little judgy but the boys were very friendly most of the time. 
(Johanna)
Brighton
Brighton was a fun, colorful and diverse city. It is a strange and in a way crazy city but in a good way, I understand why it's the (inofficial) gay capital of the country. The lanes were one of the coolest shopping areas I've ever seen, it felt like walking through a movie set. The pier was also really exciting to be at, I get why it's famous. And of course Brighton Sea Life Centre was a great experience too. Seeing turtles up close was phenomenal.
(Leif)
I personally liked Brighton the most out of all the cities and places that we have visited in England.
It's a peaceful place where you won't only find the friendliest people but also the greatest and most different sights.
One of my favorite sight was the pier where we rid the rollercoasters and ate delicious snacks.
If you are interested in history then I definitely recommend the Royal Pavilion palace. The pictures we took were unreal!! The Brighton sea life center was also a great experience in my opinion as I saw fish that I never knew existed. I also loved the lanes where there were unlimited amount of shopping stores and food markets.
Brighton is an unforgettable city, you won't ever go there and not find any activities to do. 
(Zeina)
London
On the second day in London we had a great day, starting it off by walking to the Tower of London. It is a fortified building complex on the north bank of the Thames at the south-eastern end of the City of London and thus also in the centre of the English region of Greater London. 
After that we went to the Tower Bridge and even had the possibility to walk over it. I learned that nowadays most boats on this part of the Thames are tourist boats. That hasn't always been the case though. When Tower Bridge was first built in 1894, ships sailing on the Thames were carrying other important types of cargoes, which means it doesn't open as often anymore.
After being at Camden Market we went to Soho/ Oxford Street. Our teacher recommended us to go to Carnaby Street and I'm glad I did. There were a lot of awesome shops and good looking restaurants. I really enjoyed everything on that day, especially the food. 
(Mia)
Camden market was one of my personal favourite places on the whole trip, apart from the Seven Sisters. The place was so packed that I got lost 5 times. The food market was like a fever dream for me. There were so many different food cuisines. I saw a Chinese place that I wanted to eat at but London is cashless - well, mostly. It was really annoying that everyone only took card. There were a lot of cool shops like Urban Outfitters and Cyber Dog. I would love to go back again as it was a fantastic experience.
(Leo)
In the London Dungeon, I was regretting my decisions on going in there, as I get scared very easily. Even though I screamed the most out of the whole class, I still found it one of the most interesting activities on the whole trip. I was really happy that we were able to have the opportunity to experience the London Dungeons. I really liked how all of the jump scares were always VERY related to history. The way they set up the whole thing was very realistic. I would really like to do it again and try not to scream as much, even though I know I would.
(Dora)
Food
I must say the food was not as bad as I had thought. I have gone to London before and the English food was terrible. But surprisingly the food (at least our hostess') was really good back at the host family. She knew that we wouldn't like any English food, so she didn't cook any "English food" except at the first day for dinner. We had the classic English dinner (baked beans, chicken cutlet and chips). When we were in the drama workshop we got packed lunch, which was different depend on the guest family, but ours was just a sandwich and some crips and some sweets. Pretty boring in my opinion. BUT when we were out in London and Brighton we could eat anything we wanted, since it was our free time. I ate mostly Asian food, which was amazing!! It was kinda sad though that the food was cooked by Turkish people and not Asian people. But the food tasted amazing! As for the price it was quite overpriced in my opinion, but definitely worth it. In London at Camden Market, I had some Korean fried chicken with chips and for the topping I had barbecue sauce, but there was Sriracha sauce and sweet chili sauce as well to choose from. All together I think the food was amazing, because you had a big variety of meals.
(Isabella)
Abreise nach Tavisstock (3E)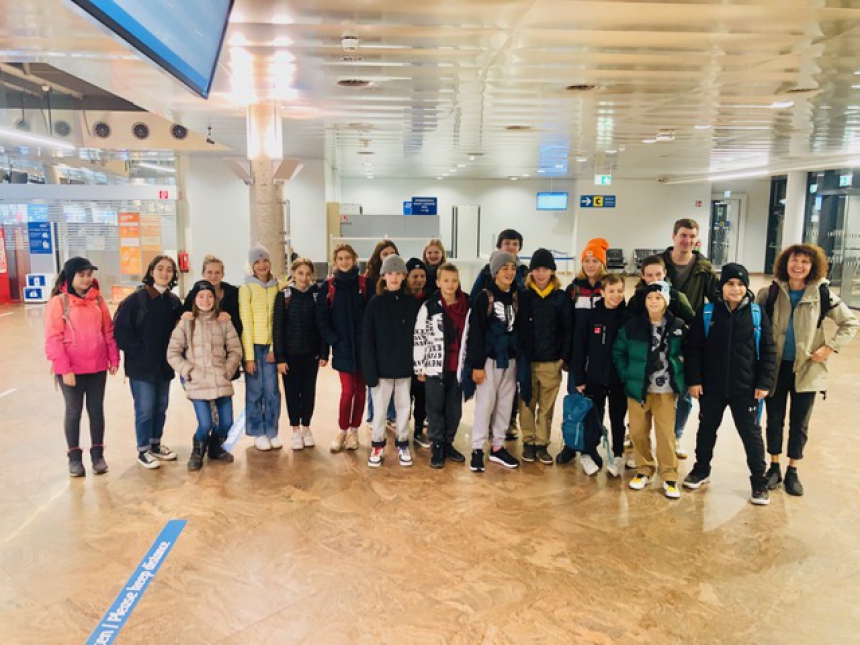 Parisreise der 7ABCD
Vom 27. September bis 01. Oktober 2022 besuchten Schüler:innen der Klassen 7ABCD im Rahmen der Fremdsprachenwoche Paris. Ein paar Eindrücke möchten sie mit euch teilen:
Un voyage scolaire à Paris …
Wir erlebten... 
| | |
| --- | --- |
|   |   |
| Nightjet von Salzburg nach Paris            | Drôle et douillet! |
| Nightjet von Paris nach Salzburg | Quelle cata! |
| Métro    | Rapide et pratique! |
| Gastfamilien | Gentil et zarbi! |
| Unterricht | Pas mal! |
| Erkundungsgänge          | 10 kilomètres par jour! |
| Abendsightseeing | Grande Arche, Arc de Triomphe, Champs-Elysées! |
| Brot | Baguette, croissant, pain au chocolat ! |
| Streik | Typique! |
| Mode    | Fashionweek Paris 2022 + Victoria Beckham |
| Denkmäler und Museen | Si beau! |
| Gässchen und Ecken     | Chouette! |
| Regengüsse + Wind | Occas pour Kir cassis et Pernod! |
| Sonnenschein + Plusgrade | Paris pur ! |
 … une aventure à tous points de vue.
Sprachreisen Sommersemester 2022 – Impressionen
Florenz (7B, 7D) 
Triest (7B, 7C) 
München (7A, 7B)
Nizza (7B)